OneCNC Exhibited at the SOUTH MACH 17 Trade Show in the land of the Long White Cloud

New Zealand is different to Australia the North Island ties are closer to Polynesia while South Island you could think you are in Scotland and scenery even looks like Ireland but all that aside Engineering in New Zealand is a strong point in their manufacturing ability and economy. OneCNC has many users in New Zealand and welcomes the opportunity to meet existing as well as new prospective users. South MACH 17 was a very good exhibition with good facilities and provided a good forum for meeting customers..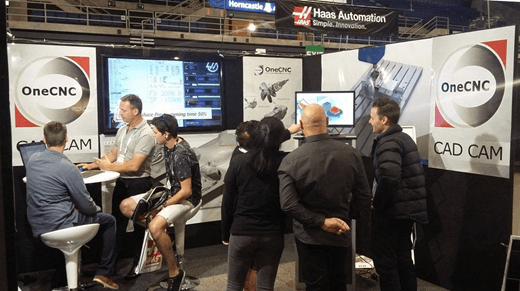 OneCNC application engineers were busy during the show demonstrating the unique time saving abilities of the current release of the OneCNCXR7 CAD CAM software.
OneCNC has users in more than 40 countries and exhibits in more than 10 international locations per year to communicate directly with customers in expanding globalisation and localisation of the product.
For further information on OneCNC products please >> Contact Us
OneCNC Australia
65 Gordon Street
Ormiston
Qld 4160
Australia
ph +61732862527
web: www.onecnc.com.au